Blog
What to Pack for Camping: Useful Tips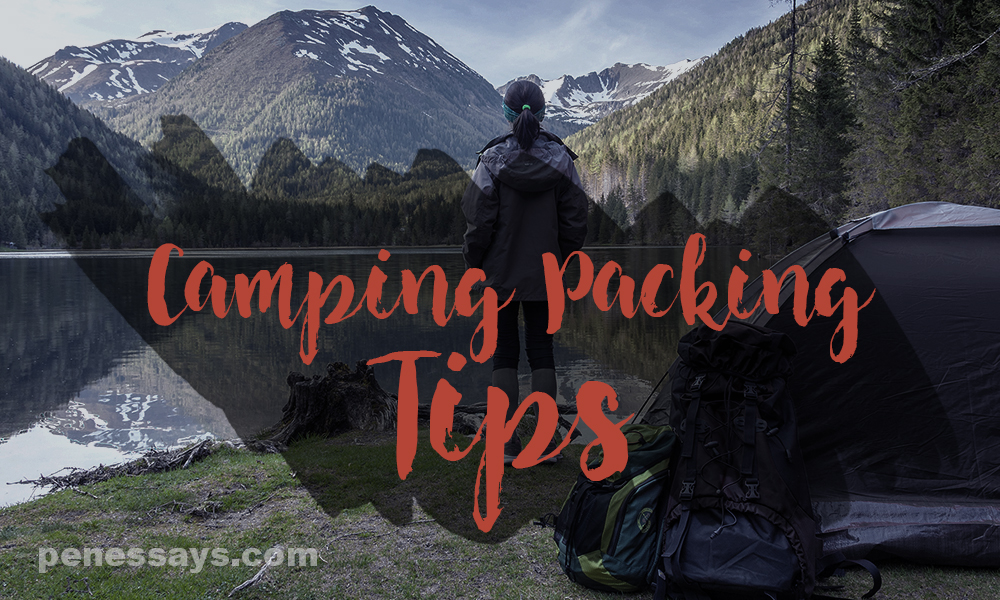 All people sometimes forget something. There is nothing terrible about it. However, it is better when you have someone or something that will help you recollect required information or data. Our online service exists exactly for this purpose: to help our customers recollect what they have forgotten or what they do not know about college paper creation. Our experts are the best helpers when you need to create, edit, proofread, revise or rewrite your paper. They will also format your work according to the latest requirements in academic field. The services are provided round-the-clock. So whatever time you may need them, we are always there to assist you. The prices are really low, so you should not worry about them at all. This post is also created to help you. This is a great reminder for those who are going camping. We hope it will serve you well.
Useful list of items to take
People more often complain about their heavy backpack rather than about lack of things. It is better to leave at home everything excess and even something necessary. Remember that except things you will also have to carry food, a sleeping bag and a tent. This list suits more summer camping, but the items you need are almost the same in every season. If your camping time is a cold season of the year, then you need to take more warm clothes (a warm hat, gloves, a warm jacket, warm socks, etc.), warmer sleeping bag and more reliable raincoat.
Items: clothes and equipment
Let us begin with a short list of the basic clothes and equipment items, in which they are divided into 4 categories:
Necessary: everyone should have it;
Recommended: we advise to have it with you but we do not insist;
Not necessary: you will be fine if you do not take it, but it is okay if you really want it;
Unnecessary: leave it at home or in luggage lockers at the railway station or in the airport.
Necessary: place in a tent, backpack, mat, sleeping bag,  raincoat, sneakers, sports trousers, light windbreaker jacket, sweater, wide brim panama, T-short, socks, plastic bottle, flashlight, cup and spoon, mobile phone, passport, money.
Recommended: trekking poles (sticks), tick remedy, personal mini first aid kit, shorts, toothbrush, backpack cover, trash bags, toilet paper, sunscreen.
Not necessary: mosquito repellent, nuts, dry fruits, candies, photo camera, mp3-player, towel, map, plate / bowl, gloves, swimming suit, guitar, tourist chair, matches, spare T-short, penknife, thermal underwear, sandals, warm hat.
Unnecessary: photo stand, books, shampoo, cosmetics, saw or ax, burner, solar battery, chair, pillow, cereals and canned food, kettle / pot, soap dish, hunting knife, fork, clothes for a train, shoe covers or leggings (gaiters), waterproof pants.
Backpack
The optimal size of a backpack is about 80 liters. A woman's backpack should be about 60 liters. Do not think that having bought a small backpack you will make it lighter. In such a way you will only complicate the process of packing. A backpack should be big and there should not be many things. By the way, absolutely all your things should be inside your backpack. If you hang something outside, you risk losing or tearing it. A mat hung outside will become shabby and shaggy soon. If you do not want to buy a backpack, you can rent it.
Tent
It can be a tent or a house-tent. If you are going to buy it, it is recommended to purchase a new light tent (1-2 kg instead of usual 3-4 kg). A tent can be rented as well.
Sleeping bag
You will need a winter sleeping bag (its weight is about 2 kg) for a cold season. In summer 1 kg sleeping bag is enough. The sleeping bag producer and type ("blanket" or "mummy") do not matter. Do not trust much to the temperature indicators written on a sleeping bag. This is a very individual issue. There are sleeping bags for rent in case you do not want to buy it.
Tourist mat (foam, ground pad, sleeping pad, sleeping mat, roll mat, or iso mat)
Tourist mats have different prices. There are cheap but really good ones that will serve you many years and will come in handy not only while camping but also on the beach, in the gym or on a picnic. Popular today self-inflating mats require too careful treatment. You will hardly manage to lie on rocks.
Telescopic trekking poles (hiking sticks)
This is something like ski sticks (poles). They help a lot when you need to walk much because they take some load off the feet. If you have problems with knees or feet, you must have trekking poles. Besides, when you use trekking sticks it is easier to walk on a difficult terrain: two additional "feet" will only help you. Also, trekking poles can be used when you set a tent (we mean new tent models). The only drawback is a pretty high price. Also, there are not so many specialized stores where you can rent them (unlike backpack or tent).
People often wonder whether it is obligatory to take the poles. The answer is no. When we speak about simple summer camping, we will be fine without them (we can use any branch of a suitable size that can be found in the forest). However, the experts recommend having such trekking poles. Or you can replace them with the ski poles that have convenient for walking length.
Raincoat (rain poncho)
The most budget (i.e. the cheapest) option is polyethylene raincoats. However, you should be ready that such a coat will tear quickly. So it is better to have a spare one with you. The best option for camping is a special rain poncho made of waterproof material. However, they are more expensive. Such raincoat covers a person and a backpack at once. This allows saving money because you will not need to purchase a backpack cover additionally.
Backpack cover
Do not believe the producers and sellers that claim that their backpack cannot get wet. Protection for a backpack is obligatory. This can be a separate cover for a backpack or a big rain poncho that covers both, a person and a backpack. The fact that you have a cover does not mean that you should not wrap all things in plastic bags (or trash bags)
Shoes (sneakers with hard sole, walking sandals)
Sneakers with hard sole are fine for summer camping. Light walking sandals are perfect as a spare option. Do not forget that you need to wear shoes for some time before your journey: go for a long walk or do some exercises wearing your new shoes. Otherwise, you risk getting bloody corns and calluses.
Trousers (light pants)
The best option is light sports trousers made of synthetic material with grid lining. Such trousers do not weigh much, dry quickly on the body, mosquitoes cannot bite through them. Pay attention that one item of trousers is enough. Do not take 10 pairs with you for every life occasion. It is also not recommended taking jeans because such pants are heavy, and when they get wet they rub and dry for a long time.  It is a bad idea to use wide leather belts (like army belts). They can easily rub your back or hips (especially in the places under a backpack).
Shorts, underwear, swimming suit
Shorts should be simple shorts. One item should be absolutely enough. The other things also should not be excess (without fanaticism).
T-shirt
It is advised to buy a thermo shirt made of special material, such as Polartec PowerDry. The clothes made of such fabric draw off sweat effectively and become dry very fast. As a result you will feel "dry and comfortable" even under your backpack. Notice that a word "thermo" does not mean that a shirt has magic oven, it just means it becomes dry faster.
Warm sweater
Even in summer you might need warm clothes (if camping is in the mountains). The weather can change abruptly so you should be ready for everything. The perfect option is a hoody made of Polartec or simple fleece fabric. A warm cloth should be one but really good and suitable. Also, remember that the weather in the mountains changes very suddenly. When you watch the weather forecast, consider that in the mountains it is about 10 degrees colder than at the seaside.
Warm hat and fleece gloves
A wool hat and warm fleece gloves are something obligatory while camping in autumn and winter. Also, they will be useful in summer, in case you are in the mountains or there is a cyclone. Remember that snow in the mountains in summer is rare but not myth (http://penessays.com/blog/language-of-animals-myth-or-reality). The hat and gloves are obligatory in any case because snowfall on the mountain peak is a pretty usual phenomenon.
Windbreaker jacket
The task of such jacket is to protect you against wind and against rain, if possible. Rain protecting jackets are made of membrane tissues of "Gore-Tex" type. That is why a windbreaker jacket should have a hood. If it is absent, your head and ears will not be protected. However, a jacket should not have a warm lining. The maximum it may have is an ordinary grid.
Headdress (panama)
Being under the sun without headdress means to get a sunstroke. Something should cover your precious head. The best option for summer camping is a wide brim panama. Your ears can burn badly if you wear an ordinary cap.
Socks (tourist socks)
Pay attention to special tourist socks. They are made of such fabric that draws off sweat well, does not have seams and wraps the legs tightly. Thanks to it there are fewer chances to get corns and calluses.
Mug, bowl, spoon (tourist mug)
Tourist tableware / dishes should be light, solid and spacious. Consequently, ceramic mugs, cast iron and flat dishes are not appropriate for camping at all. Disposable tableware is also absolutely inappropriate. Forks are not necessary at all. Experienced tourists often do not carry a bowl or a plate for the weight economy reasons. There are big and light stale cups that can serve as a bowl and a mug. This is very convenient because it makes you wash the dishes right after the meal (before drinking tea).
Towel (camping towel)
A towel is not the first urgency item. It can be left at home (and many people leave it). If required, a shirt can be used as a towel. If you cannot imagine your life without it, purchase a special tourist towel made of microfiber (fabric that is quick-drying and multi absorbent).
Empty plastic bottle
You will carry water in a bottle to drink it during the day. The most suitable variant for this purpose is a 2lt bottle. It is really comfortable to hang it on a backpack side.
LED Flashlight (headlamp LED flashlight)
You must purchase such flashlight. It is not very much expensive but it is very handy. A set of batteries for such flashlight is enough to work more than 100 hours. Compare with an ordinary one that "eats" batteries in several hours. For sure you should not take big and heavy flashlights (such as policemen's).
First aid kit (ambulance box)
A first aid kit should be light and universal at the same time. It goes without saying that it should contain peroxide, brilliant green, bandage. Take many plasters (bactericidal and ordinary) with you. Also, you need to have anti-inflammatory drugs, activated carbon, and something for the stomach. Elastic bandage and anesthetic ointment will help in case of problems with joints. If you need some special drugs that are related to your personal health issues, do not forget to take them (and also warn others about this). For example, someone can suffer from diabetes, so read this instructive essay on type 2 diabetes and probably you will save someone's life. In general, take with you only such medicines that you know how to use.
Sunscreen
Camping means that you will be in the open air almost all the time. If you do not protect yourself in the very first day from the sun rays, you risk getting serious sunburns. Take a sunscreen with high protection factor (at least 30).
Other hygiene (toilet paper)
Girls tend to take many creams and different cosmetic products. However, they would better not to do this. A cream, as well as toothpaste, should be one item for 10 persons. Toilet paper is something very useful and you need to take it with you because it can be used in many different ways (for example, it comes in handy when you need to wash up).
Photo camera
You should know it at once that there will be no places to charge your gadgets and various devices. So, you should either save your batteries or have several spare ones. There will not be time to use photo stands. That is why there is no need to carry them with you.
Mobile phone
Each camping participant should have a phone (for security reasons). Today it is possible to make a call from almost any place (including mountains). This is one of the globalization advantages. If you want to learn all of them, read globalization pros and cons essay on our blog. In order to save the battery, you should keep your phone turned off and turn it on only once a day.
Two-liter plastic bottle
Each camping member needs to have a plastic bottle. Any bottle will do. You can wrap it in foil so that the water inside does not become hot quickly.
Do not take with you:
Axes, saws. We do not saw the trees. We gather the brushwood.
Photo stand. You will hardly use it more than two times (you will just do not have time on it).
Kettles / pots, gas burners.
Heavy books and magazines (there will not be time to read).
Food. We mean too much food. Take only the most necessary.
Do not duplicate the items
Also, do not take the items that are similar in their functioning. If there is a soap bar, you do not need shampoo. If you take a tent, do not take a mosquito net, a bivouac sack or a hammock. In case you have taken the items of similar functions, you will probably use only one of it, and the other one will just take place and make your backpack heavier. Do not take something unnecessary and excess.
Total weight
Now to demonstrate you better why we mention the weight of each item let us calculate the general weight: backpack 2 kg; sleeping bag 1 kg; tourist mat 0,4 kg; tent 2-4 kg; shoes 1,5 kg; clothes 3 kg; first aid kit and hygiene 1 kg; photo camera, mobile phone, flashlight, dishes 1 kg; water 2 kg; food 3 kg. Total: 17,5 kg (if a tent is light). For a lady's backpack the weight is about 3-4 kg bigger. That is why women usually do not carry water and food. That is why men should not take excess items because they will have to carry double amount of food and water. Now it is high time to read gender equality essay that is directly related to what we have just discussed.
In any case, discuss the list of your items with a leader of your group. You should warn others if you decide to take another tent, a food bag "just in case" or any other object, the weight of which is more than 10g and that is not mentioned on the list. There is not "my" or "your" backpack, the weight is common while camping. If someone becomes weak and is no longer able to carry his (hers) things, others will have to carry them.
Navigation
The navigation issue is important. However, it is more important at the time when we move from one point to another. In general, there are no problems in the parks (it is hard to get lost in a park because there are many signs everywhere, different schemes and other supporting means). Anyway, the following items will be useful:
It is great if you have a map of a country, city or location you are going to visit. It gives some wider picture (unlike GPS). Looking at the giant maps everything becomes clear in some magic way. In addition, the camping locations are often marked on them. Many tourists use such maps in their journeys. You can buy a map almost everywhere (in an ordinary store or online on a site that sells suchlike goods). It is better to purchase it in advance.
GPS is a loyal helper in any traveling. Some people use it constantly and cannot even imagine how transportation can be possible without it. Thanks to this faithful friend we can go anywhere and not be afraid to get lost. It is often used when you need to walk a lot.
They say it is better to have a car navigator with a big screen to drive comfortably. Otherwise, it will be difficult to find the right way when some location is unfamiliar to you. If you hire a car, more likely the navigator will go in addition to it.
Alternative lists of equipment
It is hard to present such wide issue as camping equipment within one article. That is why you can search for additional lists on the Internet. Believe us, there is much useful information and tips you can find. This list is created basing on personal experience and common sense of the experts. We do not claim it is absolutely universal and perfectly clear (if you look for something perfect, we have what to offer: http://penessays.com/blog/use-academic-writing-service-make-your-paper-perfect). You should ask your instructor what to take each time you are going camping. He will recommend how to correct your list so that it becomes maximally suitable for the place you are going to visit. If you know something that should be added to the list, contact us because we do not want to miss something important.
List of sea camping items
When summer comes, the journeys to the seaside become more popular. Previously we have presented the list of items that should be taken in general. Now we are going to be more specific and present another list for those who go to the sea. The list is created taking into consideration such additional factors as the necessity to stay in a car for a long time or to drive for many hours without stops. Keep in mind that you do not need to take it all! You should decide what to take on your own. Also, you can buy some items later when you reach your destination point.
The items to take (in general):
Passport, medical insurance, money, tickets
Bag for documents
Photo camera, batteries, SD-cards, card-reader
Mobile phone and charging
Backpack / bag
Food (to eat on a train or in a car)
Some food supply (to eat while camping)
Notebook and pen
Sunglasses, spectacle case
Books / magazines
Handkerchief
Player with batteries
Alarm-clock
Insect repellent
Moment glue (a small one)
Clothespins
Scotch tape / insulating tape
A towel
Something for handwork
Things to take inside the car:
Documents for the car (driver's license, non-expired insurance)
Inflatable car cushion
Inverter 220V and extension cord
Pump for pumping the mattress
Windshield sunscreen (sunblind), car awning
Map / road atlas
Phone charging (that can be used with the cigarette lighter)
Netbook / laptop / TV
Disks or flash drive with movies and music
Blindfold
Things for the beach
Sea mattress
Mask, snorkel, fins
Mat for the sea or bedspread
Beach bag (optional)
Beach umbrella
Ball / badminton / frisbee
Camping things:
Camping (or ordinary) tent
Sleeping bag or blanket
Foam mat or inflatable bed
Seat-hob (a small rug that is attached to the lower part of your back so that you can sit anywhere at any time)
Polyethylene or tarpaulin
Hammock
Flashlight with batteries
Headlamp with batteries
Candles (optionally), lighter, matches
Nails
Ordinary clothesline
Gloves (to remove the garbage, which someone has left before you, and to remove the garbage you leave)
Cards / board games
Ax
Shovel
Kitchen items:
Folding table
Folding stools
Burner + gas cylinder
Disposable tableware, bowl, forks, spoons, knives, ladle, stand under the hot, mugs
Rag for the table
Cutting board
Tack
Can opener
Pot / kettle
BBQ, skewers / grill
Starting fluid
Coal, alcohol powder
Five-litter bottle
Washbasin / canister
Garbage bags
Cooler bag
Hygiene:
Soap / shower gel, shampoo, toothbrush, toothpaste, dental floss
Toothpicks
Toilet paper
Wet wipes / antiseptic gel
Cotton swabs, cotton pads
Sanitary napkins, tampons
Razor
Shaving cream
Deodorant
In the cosmetic bag:
Comb
Invisible hairpins, elastic bands, crab
Small scissors
Tweezers
Mirror
Nail file
Earplugs (you will need them on the train!)
Hand cream
Moisturizing cream
Hygienic lipstick
Needles, threads, buttons, pins
First Aid Kit:
Plaster (bactericidal and roll)
Iodine
Peroxide
Sunscreen, after-sun cream
Aspirin
Antibiotics
Activated carbon
Pain relievers
Elastic bandage
Cream for bruises and sprains
Remedy for motion sickness
Clothes:
Something with long sleeves (for sun protection)
Headdress (bandana / panama / cap)
Warm clothes
Windbreaker, raincoat, umbrella
Swimsuit, swimming trunks, pareo.
If something still misses, do not hesitate to contact us and tell about it. We will take your recommendations into consideration and renew the lists. Feel free to contact penessays writers anytime if you need any further information. Also, you are always welcome to visit our site and get acquainted with online services that we offer. The most important what you need to know is that our specialists guarantee high-quality prompt help with academic papers creation and processing. You can rely on us completely and entrust us your essays, research or term works, articles, thesis papers or any other type of college papers. Competently written paper at low cost is what you will get cooperating with our professional team. Think about it and let us know what you will decide.
In addition, we have prepared several useful posts for you:
The Best Online Essay Editor: Your Personal Assistant
High-Quality Essay Editing Service: Safe, Reliable And Cheap
Use Professional Essay Creator, Make Your Paper Perfect